Our goal is to create a synergistic environment with the Guesthouse, cafe, and dharma shop with mandala-making courses, Buddhist art workshops, and Tibetan/ English language classes with local craft and organic products. Our Guest house is ready so visitors can have the opportunity to enjoy the experience of staying at a monastery. This activity will strengthen us in becoming a desirable destination for all to connect with this precious monastery.
Short Courses are available upon request, and some donations are required as the monastery needs to prepare the material for the activities.
Sand mandala

Tibetan Language

Learning Puja

Torma Making Class

Tibetan Calligraphy

Butter Sculpture
Sand Mandala short course
Sand Mandalas construction is an ancient and sacred art. Traditionally Sand Mandalas are constructed for special events such as special pujas and ceremonies where the sand mandalas are constructed before or at the opening ceremonies and are de-constructed at the end or on the closing of the ceremony or pujas, to remind us of impermanence and to share the blessed sand among the participants.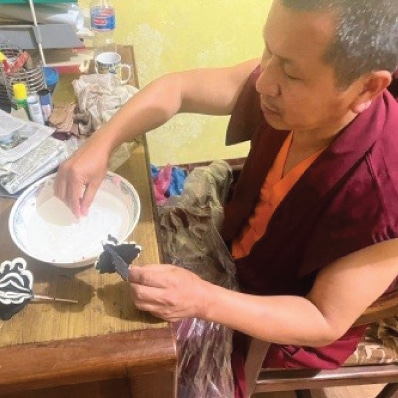 Torma Making Course
Torma (Skt: Balingta, Tib: Tor-ma, Wylie: gtor ma) are figures made mostly of flour and butter used in tantric rituals or as offerings in Tibetan Buddhism. They may be dyed in different colors, often with white or red for the main body of the torma. They are made in specific shapes based on their purpose, usually conical in form
We welcome all visitors and guests to come and learn more about this precious gem of a monastery.