Segyu Gaden Phodrang Monastery is undoubtedly one of the most exceptional monasteries of its kind, situated in the bustling city of Kathmandu, Nepal. Founded back in 1986, the institution is dedicated to the dissemination of the philosophy and teachings of Je Tsongkhapa, one of the most famous Buddhist scholars of all time- all while celebrating the richness and diversity of Tibetan culture that has been thriving for centuries. The history of this monastery dates back to 1432, and since then, it has been consistently attracting visitors from all corners of the globe who are passionate about learning and understanding Buddhism while immersing themselves in Tibetan culture. One of the most exciting aspects of Segyu Gaden Phodrang Monastery is its ability to offer a unique opportunity to anyone who visits it. The tranquil atmosphere, the range of immersive experiences, and its spiritual energy all work together to create an unforgettable experience for anyone seeking a deeper sense of inner peace and cultural enlightenment.
Due to political instability, many Tibetan monks departed from Tibet in 1959. Out of the original Segyu Monastery, only 40 monks succeeded in seeking asylums in Kalimpong, India, via Gangtok, Sikkim. They received aid as refugees despite facing many difficulties. As ordered by the newly formed Tibetan Government in Exile, some monks were delegated for road construction. At the same time, the remainder of the monks stayed to perform religious prayer ceremonies for the locals.
Today, this monastery is one of the most sacred and historic Buddhist monasteries. Since its founding, the monastery has continued the legacy of the Great Je Tsongkhapa's original teachings and pure tantric practices by providing a solid foundation for Vajrayana teachings, such as Guysamaja, Heruka, and Yamantaka.
During the time of Je Tsongkhapa, he asked his disciples who would preserve and promote his Tantric teachings. Jetsun Sherab Sengge volunteered to uphold his teachings, especially the Guyasamaja teachings. With the blessings of Je Tsongkhapa, Jetsun Sherab Sengge went on to establish the Upper Tantric College, Segyu Gaden Phodrang. As the monastery flourished over the years, Jetsun Sherab Sengge left Central Tibet and established the Lower Tantric College. This way, both Upper and Lower Tantric Colleges originated from Segyu Gaden Phodrang.
The late abbot, Gen Jampa Tsundru Lama, continued to uphold the monastery's original mission of educating and exercising Je Tsongkhapa's teachings. Segyu's mission is to provide and uphold Buddhist studies and practice opportunities based on the Gelug tradition of Lama Tsongkhapa and his Tantric lineage for the local community and foreign visitors through education programs, prayer sessions, and community service.
We are committed to creating a conducive environment to help all beings develop their full potential of enlightenment for the benefit of others, inspired by an attitude of universal responsibility.
In 1979, our great master and supreme Guru, His Holiness Kyabje Trijang Dorje Chang, visited Kalimpong two times. His excellent advice was that the monks should not live in this current condition because Segyu Monastery is the source and mother of the Tantra lineages for the precious Gelug tradition. He advised that we needed to ordain new monks and preserve this unique tradition. Kyabje Zong Dorje Chang and other supreme lamas also advised us to ordain new monks and take them to Kyabje Trijang Dorje Chang for the hair-cutting ceremony as new monks.
Kyabje Trijang Dorje Chang was pleased and performed the hair-cutting ceremony for these new monks and again gave us sound advice concerning plans for the future of Segyu Monastery. He also gave a short discourse on the Hundred Deities of Tushita (GadenLhagyama). Lama Kungu Palden lak also provided advice and a donation of five thousand Indian rupees. Then, we started construction and built a few new rooms at Kathmandu.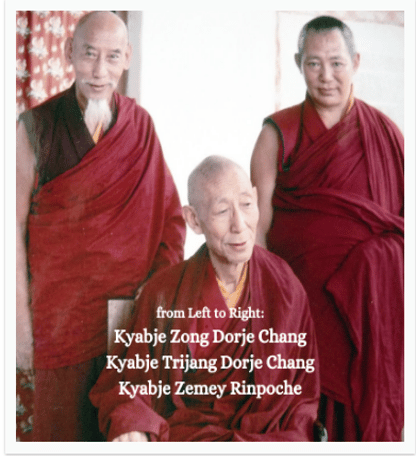 We welcome all visitors and guests to come and learn more about this precious gem of a monastery.