Here is the complete schedule for the monastery's 2018 Rainy Season Retreat. Though this is a monastic activity, throughout history the lay community has always been encouraged to participate by trying to reduce their daily activities and focus on spiritual activities during this time. Today, the local lay community will often attend many of the pujas or offer puja sponsorship.

1. July 27th: Rainy Season Retreat begins with Monastic Confession Ceremony and 17th chapter Guhyasamaja Tantra texts reading (dpalgsangba 'duspa'irgyudgzhungle'u 17 rgyudphyi ma bcas)
2. July 29th to August 1st: 13 Deity Yamantaka Intensive Sadhana Session with Great Consecration Ceremony and Fire Puja Offering.
3. August 2nd to 3rd: Tara Thread Cross Ceremony (sgrol ma g‐yulmdosgrasgrig dang dngosgzhi'ichogargyas pa).
4. August 4th to 8th: Guhyasamaja Intensive Sadhana Session with Fire Puja Offering (gsangba 'duspa'isgrubmchodsbyinsreg).
5. August 9th to 11th: Simhanada Nagas Rite preparation and actual session (Sangey dar jebtsunseng gesgra'ikluchog).
6. August 12th to 18th: Heruka Chakrasambara Sand Mandala preparation and construction.
7. August 19th to 21st: Heruka Chakrasambara Intensive Sadhana Session with Fire Puja Offering (SDROP CHOD) .
8. August 22nd to 23rd: Reading of 105 Volumes of texts (Kagyur) of Buddha's Teachings and reading of 225 volumes of translated commentaries of Buddha (Tripitaka).
9. August 24rd to 27th: Great examinations of monastery.
10. August 28th to September 2nd: Great Kangso offering to Mahakala, Kalarupa, Sridevi, and Kubera, etc.
11. Sept 3rd: Death anniversary offerings day of great Master Dhulwa Zenpa Palden Sangpo
12. September 4th: Preparation day for Vajra Yogini and White Umbrella Goddess offering pujas.
13. September 5th: Vajra Yogini waxing moon period tenth offering.
14. September 6th to September 8th: White Umbrella Goddess offering for averting epidemics (gdugs dkar bzlog chen).
15. September 9th : Last day of Rainy Season Retreat Confession Ceremony and start of monks holiday (dga gdbye) for six days.
SPONSORSHIP OPPORTUNITIES FOR RAINY SEASON RETREAT PUJAS
As always, we try to offer these auspicious opportunities to all of our friends who are not here to accumulate vast merits. Sponsoring pujas or caring for a monastic community is always beneficial, but greatly increased during this retreat season. When you sponsor any part of a puja you can give us your dedications or special prayer request wishes for yourself, your family and/or friends, people who have passed, or any challenge or difficulty you might be facing. These dedications and requests are read during each puja. Though we are always praying for all living beings, this is extremely gratifying for us to be able to extend these opportunities to our friends to be a part of these special events in which the merits are multiplied and strengthen your connection to this precious monastery. Below is a list of ways to sponsor.

If you would like to sponsor any of the following, please send us a message through our CONTACT page:
Tea 2500npr (23.5 USD)
Bread 2500npr (23.5 USD)
Lunch 8000npr (72.5 USD)
One whole day food 10000npr (90.5 USD)
Monks alms 80 monks you may offer as wishes any amount for per monk,
Any amount general pujas offering will grateful
Butter lamp 100npr (1 USD) small 500npr (4.5 USD) large
Robes small 1800npr (16.5 USD) large 3000 (27.5 USD)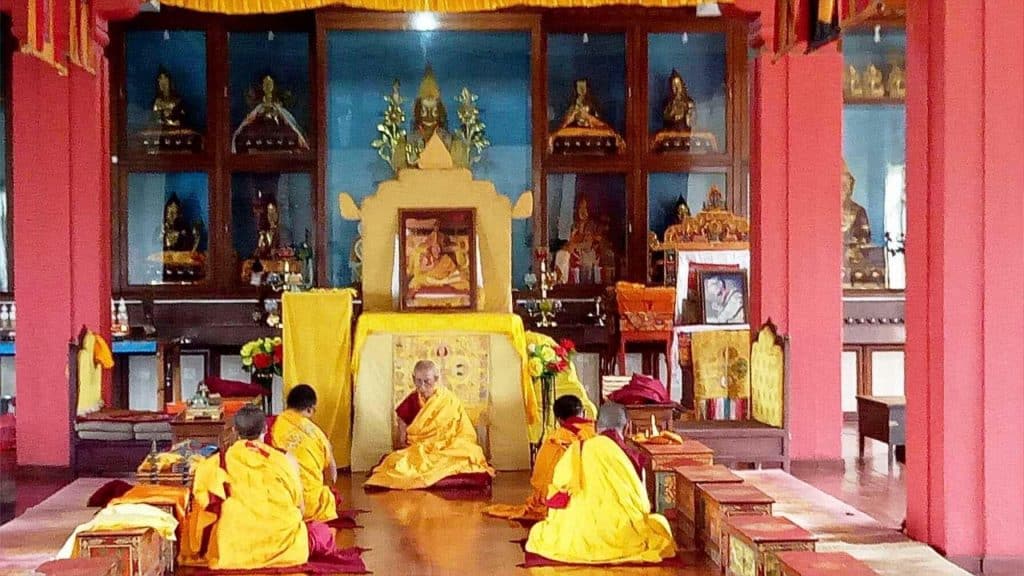 SPONSORING SUBSTANCES:
Any of the Fire Pujas 6000npr (55 USD)
13 Deity Yamantaka Intensive Sadhana Session with Great Consecration Ceremony and Fire Puja
Offering. 5000npr (46 USD)
Tara Thread Cross Ceremony (sgrol ma g‐yulmdosgrasgrig dang dngosgzhi'ichogargyas pa).
5000npr (46 USD)
Guhyasamaja Intensive Sadhana Session with Fire Puja Offering (gsangba
'duspa'isgrubmchodsbyinsreg) 2500 npr (23.5 USD)
Simhanada Nagas Rite preparation and actual session (Sangey dar jebtsun seng gesgra'ikluchog)
2000 npr (18 USD)
Heruka Chakrasambara Intensive Sadhana Session with Fire Puja Offering (Drup Cho)
5000npr (46 USD)
Great Kangso offering to Mahakala, Kalarupa, Sridevi, and Kubera, etc. 5000npr (46 USD)
Death anniversary offerings day of great Master Dhulwa Zenpa Palden Sangpo 3000npr (27.5
USD)
Vajra Yogini waxing moon period tenth offering.2500npr (23.5 USD)
White Umbrella Goddess offering for averting epidemics (Dukkar Lok Chen) 5000npr (46
USD)