Experience the tranquil ambiance of Segyu Kelsang Donkhang Fortunate Guest House in Kathmandu, where you can bask in a welcoming atmosphere steeped in tradition and cultural atmosphere.
Immerse yourself in an array of spiritual activities and get a glimpse of the rich local customs and cultural practices, ensuring a memorable visit. We offer cozy accommodations suitable for solo travelers, families, and groups accommodations. Reserve your stay today and indulge in our warm hospitality.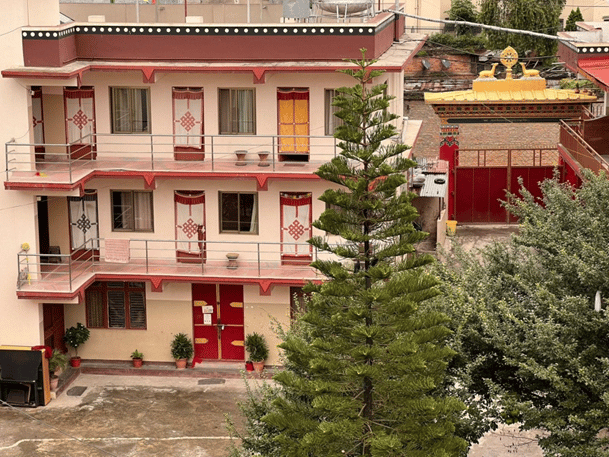 Located near Tinchuli Chowk, a typical Nepali neighborhood, the monastery is an enjoyable 10-minute walk to the stunning Boudhanath Stupa, a UNESCO World Heritage Site, and one of the largest stupas and most famous pilgrimage sites in the world. The monastery also features easy access to transportation, and typical Nepali meals at pre-scheduled monastery meal times.
We are a Buddhist Monastery with 10 senior monks and 130 young novice monks, whom we fondly refer to as mini-monks. Nepali and Tibetan are the primary languages spoken, but many speak English.
Guests are welcome to join in any monastery activities, such as puja (prayer) sessions, mini-monk recess time, and twice-daily tea breaks. Additionally, we offer a variety of meditation classes in English taught by an experienced Western dharma teacher. Traditional Nepali meals, which are included in your stay, are served in the community dining room.
We are also ready, willing, and able to help you arrange holy tours and general sightseeing activities.
Tinchuli Chowk is a vibrant neighborhood providing anything a guest could want from a shopping, eating, or interacting experience within a five-minute walk from the entrance to the monastery. Not only are there plentiful, delicious Nepali-style cafes serving local staples such as dal bhat khana platters and vegetable and non-vegetable momos alike, but because of our proximity to the Boudha Stupa and the local Tibetan population, this is one of best neighborhoods in Kathmandu to enjoy laping (spicy mung bean noodle dish), Tibetan bread, and thukpa (noodle soup), among others. Of course, there are also many continental options as well.
Like all of Kathmandu, an adventure or new sight, sound, or experience is right around any corner, and our location does not disappoint in this arena.
A bus stop and taxi stand are located right outside our front door. Airport pick up and drop off is available for USD15.
Regardless if you are here in Nepal for a touristic visit or Buddhist pilgrimage or to further your understanding in the Buddhist philosophy, we welcome you to our Kelsang Dongkhang, please click on the link to make your room booking.
We welcome all visitors and guests to come and learn more about this precious gem of a monastery.